About Us
Natural Home Builders Inc.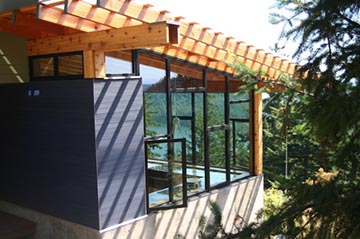 Our company motto: Nurturing Homes, Building Community says it all. Provide the highest craftsmanship and green construction practices to build a home that nurtures your family. Listen to your needs and goals to present clear choices in a structured timeframe. Volunteer and provide leadership so there is a vibrant community to support the other needs of our families outside this home. This, to me, is real Sustainable Building.
On an island your word and reputation mean a lot. I am very proud of Natural Home Builders' and my own standing in the community. I am Gulliver Rankin, 20 year resident and contractor on Orcas since 1998. My son and wife share our 12 acre farm with 3 cats and 38 chickens. A graduate of the University of California at Santa Cruz with degrees in Geology and Art, I spent years as an outdoor educator and wilderness guide for troubled youth, ending up teaching sea kayaking on Orcas in 1992. A 13 year veteran with Orcas Fire and Rescue, I am an EMT, Rescue Tech. and Wildland firefighter. Past president of the San Juan Builders Association, chair of the Eastsound Planning and Review Committee and chair of the Citizen Stormwater Advisory Committee; I understand the codes and advocate for balanced development.
I spent years in an 'old world' apprenticeship under my German grandfather as a carpenter and was a union painter to pay for college. A true general contractor, on site daily acting as lead carpenter, I am a 'hands on' builder. For the best quality my 3 person crew and I do the foundation to finish work, roofing to plastering. My sub contractors (Excavation , Electrical, Plumbing, Tile, Insulation, Drywall and some Painting) are an effective team of craftsmen I have worked with for 10 years. Be it getting calls returned from the Planning Department, guiding you through the wilderness of choices and construction challenges, or handling the unexpected emergencies; I have the team, I have the skill set, and I have the experience to make your project shine. My reputation rests on it.
Sincerely
Gulliver Rankin
President Natural Home Builders Inc.